The Trauma Egg Exercise (With EXAMPLE)
I read The Murray Method and discovered the Trauma Egg exercise several years ago during a difficult period in my life. Here's my experience on what the Trauma Egg exercise is and how it can help you:
---
What is the Trauma Egg and how it can help you
The Trauma Egg is an exercise created to gain awareness about painful and traumatic events you experienced throughout your life and how they can influence your present. It can help you to:
Process the emotional pain from the past
Change negative beliefs and patterns
Become free from destructive defensive mechanisms
Have a healthier and happier life
In this article, you can find an instruction with pictures and examples on how to do the trauma egg exercise; the benefits you can get from it; the history of this tool, which was created by Marilyn Murray; and a story about my personal experience of doing the exercise and following the Murray Method.
How To Do The Trauma Egg Exercise?
Materials: One large sheet of paper (you can also use an easel pad or the plain side of a roll of wallpaper) and pens or markers.
Timing: make sure you have at least two hours, but also consider that you can always take a break if it's becoming too difficult or overwhelming because of painful feelings and emotions. You can continue the next day.
1. Draw an Egg (this will be the Trauma Egg)
Draw a large oval in a shape of an egg. The Egg should be big enough to list all our traumas inside it.
2. List the items that will represent the "nest" where you were raised:
Write "Father" on the bottom right corner and "Mother" on the bottom left.

Reflect on each of them and their lives and list what you think was important. List any of the circumstances in their lives that influenced them. Example:

Father: son of an alcoholic father, who suffered from emotional abuse.
Mother: was raised by a single mom and had to take care of her younger siblings.

If you were raised by any other adult who was not your parents list them here as well.

List the date of your birth and anything significant about that time. (Wars, natural disasters, financial crises, or any other historical event that could influence your parents)

List any prior siblings, miscarriages, or abortions.
3. Write down all the traumatic events inside your egg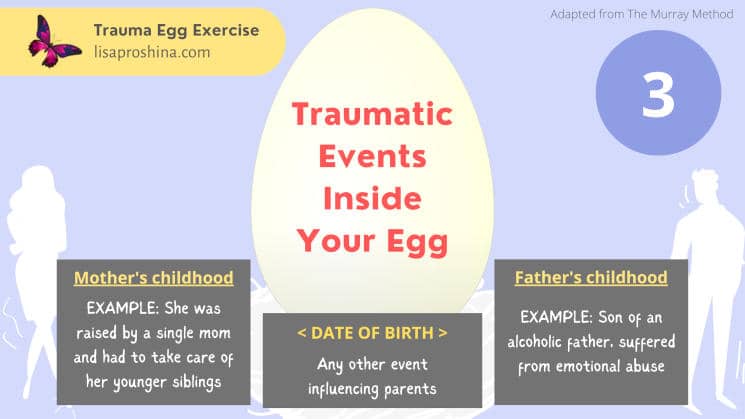 After you draw the egg and the nest, you can start writing down all your traumas inside the egg, starting from the bottom and moving forward. You should list everything that caused you to feel painful emotions like fear, sadness, shame, guilt, rejection, and so on. Write down everything from your childhood to the present, including events that you don't remember and have been told, like premature birth, early accidents, hospitalizations, or illnesses. Draw the line for each event, name it and write your age at the bottom of the line.
Here are some examples of what you can put inside the egg:
Being a victim of crime, terrorist act, or an accident
Losing a parent, relative, significant other, or even a pet
Illness or hospitalization
Divorce of your parents
Physical, sexual, emotional, or verbal abuse
Being bullied or harassed, even with bad jokes or lies
Those are just some examples, but you can put any event from your past that caused you to feel emotional pain. Don't try to judge here about how significant the even was. It's important to list everything that caused the painful feelings.
4. List long-term stressors around the outside of the egg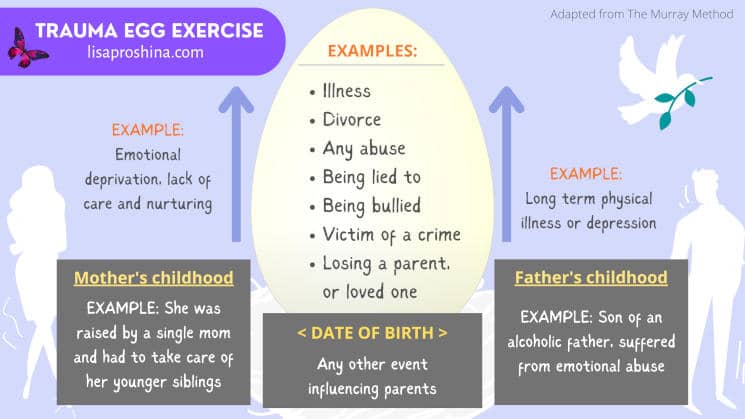 You may notice that your painful experience from the past is caused not only by some specific traumatic events but also by long-term, chronic events, and stressors. Also, if you mainly suffered from deprivation, when you were a child, then your egg can be almost empty. That's why we need to write down all the things that repeatedly happened in our past. You should list those outside the egg.
Here are some examples of long-term stressors and deprivation:
Long-term physical illness or disability (both physical and mental)
Being left alone (at home, when your parents need to work, or in the hospital, when your parents are not allowed to visit)
Cultural or government issues (like a financial crisis or prejudice due to race or religion)
Lack of care, nurturing, or even something essential like food, shelter, or closing
Physical or emotional neglect, lack of touch or positive affirmation
Excessive control, overly protective parent
Alcohol or drug addictions in the family
Try to remember what was a part of your everyday life, that was causing you to experience stress or other negative emotions. Maybe the "coldness" of your mother or the aggression of your father, maybe their fights, or maybe something that was happening at school.
5. Final steps
Your trauma egg is done, and now you can reflect on it. Marilyn Murray recommends sharing your egg with someone you trust or a therapist.
Look at your egg: you have come a long way. Try to see, which of these past events still have an influence on you, and which of them may be already almost forgotten.
How do you feel now? Did you uncover some old feelings? Can you process them by yourself? Or maybe you need some help?
Did you see what defensive mechanisms you created as a child but still use them as an adult? Do you want to change them?
Looking at your trauma egg can give you many insights and an understanding of what to do next. It may also help you gain closure when you share your story with someone else.
Doing the trauma egg helps you become aware of how your old traumatic experience created some patterns and beliefs for you. Now you can see better what kind of triggers can make you unreasonably emotional and may put you in a vulnerable or childlike state. Becoming aware is the first step in changing these patterns and your reactions.
This exercise is just the beginning of your healing journey. If you want to know more about how you can work with your past experience, you can read the Murray Method book, which I highly recommend.
Why Do The Trauma Egg Exercise?
The trauma egg exercise can be a painful but also enlightening and healing experience. While doing it, you will see everything you went through and how it influenced you and your life.
There are many things that we couldn't process in a healthy way while we were children. We didn't have enough knowledge, experience, recourses, or support. We did what we could at that age and made some important decisions that still influence our life.
Today, as an adult, you can face these problems and finally process them differently. You can make new decisions that will serve you better. You will become aware of the defensive mechanisms you may still be using, even if sometimes they are destructive.
4 Reasons to do the Trauma Egg exercise:
Become aware of what you went through and how it influences you now.
Facing and finally processing all the painful and difficult feelings that hold you back.
Make new decisions as an adult instead of continuing doing what you've decided as a child under the pressure of a traumatic experience.
Become aware of the defensive mechanism you are using and changing them in a way that will serve you better.
Sometimes we can be harsh on ourselves, having lots of expectations of what we should have done or achieved and having regrets about what we haven't done, but we may forget all the difficult and painful experiences we went through. You may not know how much energy you are using to suppress these old feelings or that today's fears or insecurities are the results of your past trauma. The Trauma Egg also can help you become kinder to yourself and develop more empathy and compassion, which is necessary for your healing.
Balancing your root chakra
Healing childhood traumas and balancing the root chakra have a mutually reinforcing relationship. 
Healing childhood traumas has a transformative effect on balancing the root chakra. It allows for the release of blockages and restores the flow of energy, leading to greater stability, security, and overall well-being. By addressing and working through these traumas, we can harmonize and restore balance to the root chakra, fostering a stronger foundation and connection to the physical world.
In turn, when we focus on balancing the root chakra, it aids in the healing process of childhood traumas. As this energy center can become blocked or imbalanced when we experience challenging events during our early years. By focusing on healing the root chakra, we can address and alleviate the effects of childhood trauma, promoting greater overall well-being and energetic harmony.
Trauma Egg: My Experience
To tell you about my experience, I should share first a bit of the background story about that period of my life. First, the boyfriend that I dated at that time suddenly and unexpectedly decided to break up with me. I didn't handle it well. A few weeks later, I had a very complicated wisdom tooth extraction that led to a long recovery period. Meanwhile, I experienced an extremely stressful period at my job that was gradually getting worse. I ended up having terrible insomnias that led to mental and later physical health problems.
Now it seems that everything was pushing me to look deeper inside me. That was the moment when I found out about the Murray Method book. I started reading the book and doing the exercises from it. The first of them is the trauma egg exercise. When I did it, I saw how many things in my life were created by me because of my past experience. I was still acting in line with the defensive mechanisms I had created as a child as a reaction to traumatic events.
Low self-esteem, insecurity, fears, and self-sabotage controlled my life decisions. I notice several destructive patterns and beliefs. I have become aware of how I ended up in this kind of a life situation with all these problems. I saw how strong was my controlling inner child and that I needed to let the sobbing inner child finally speak and process all this pain from the past.
That's how my work with my past traumas started. I've spent about two weeks with very intense emotions and feelings from the past. To know more about my results from this inner work, you can check this post The Murray Method review. Here I will just say that this was the start of the major changes in my life.
All these changes were positive once. Now, I am happily married for more than 4 years. 2 months after I followed the Murray Method, I quit the job that I didn't like and never had to work 9 to 5 again. I solved my health problems, and now I am doing something I am really interested in while helping others.
I also created a multidimensional approach to transformational coaching that can heal trauma on all levels: mind, body, energy, and spirit.
Of course, I can't say that all these changes happened only thanks to the Murray method, but it was a big contribution to my healing and personal growth.
Another interesting thing happened that I noticed a bit later after doing the trauma egg exercise. Surprisingly I forgot to put in the egg one of the most tragic and traumatic events: my father's disappearance when I was 5 years old. The police never found him, and we still don't know if he is dead or alive. The disappearance of someone you love is difficult to process because you never know when is the time to stop waiting and start grieving.
But why I had not put it in my egg? Later I found out that it is a common problem when people forget to put something major in their egg because they are not ready to deal with it. It is another defensive mechanism, and that is what happened to me. I had to deal with it a few years later, but it's a long different story. Here I mentioned it just for you to know that these kinds of things can happen, and there is nothing wrong with you if you forgot to list a significant event from your past.
Trauma Egg History
The Trauma egg exercise was designed by Marilyn Murray in 1983 as a part of her Murray Method. This method is an internationally acclaimed approach that helps people go through the healing process and create a new healthy lifestyle. The Trauma egg demonstrates one of the main concepts of the Murray Method.
According to Marilyn Murray, people have a specific reaction when facing some traumatic event, especially when they are children. She called in the Scindo Syndrome.
The Scindo syndrome explains the psychological process of the "splitting" into the Sobbing child (the part of us that contains all the pain of the traumatic event in the past), the Controlling child (all the defensive mechanisms that were created in order to deal with the pain), and the Original child (the person we meant to be before we faced the trauma).
The Murray Method can be used to work with different kinds of traumas, from something severe, like physical or sexual abuse, to something much less visible as emotional deprivation, for example, if your parents were too cold and didn't give you enough attention and emotional support.
Today, many different therapists use the Trauma egg in their practice, and this exercise proved to be very effective.
If you want to know more you can visit the official website of the Murray Method.
Here you can order the Murray Method book.
Conclusions
The trauma egg exercise was designed by Marilyn Murray as a tool to work with any painful or traumatic events from your past. First, it was just a part of her Murray Method, and then many other therapists started using it in their practice. You can find different ways to do the trauma egg because various practitioners added something or modified some details.
In this article, I shared with you the instruction on how to do it which is very close to the original version of Marilyn Murray. The trauma egg is done in four steps:
Drawing the egg.
Listing the information about parents and important historical events.
Writing all the traumatic events in the egg.
Writing long-term stressors outside the egg.
Once you've done your trauma egg, you can reflect on it, get some insights, process old feelings, gain some closure, and decide what to do next.
After I fifnished the exercise, I continued following the Murray Method and went through a transformational healing journey.
If it's done properly, the trauma egg can lead to inner changes and self-development work that will help you improve your life in many ways. However, it can be an emotional and painful experience, and it's always better if you have help, for example, from a therapist.